We have 3 dogs: Blondie, Sassy Brunette, and Auburn Jo.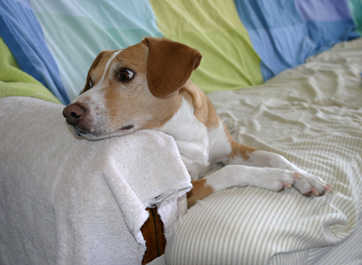 Blondie is our oldest dog. A rescue animal, Pam found Blondie through an on-line search. Blondie had been adoped by an older couple but returned to the shelter when they could not put up with a puppy's activity level. Pam contacted the group and arranged the adoption. We have had Blondie since 2008.

Blondie loves to play tug-of-war with Jer and is prone to barking at everything and everyone who moves past the house. She is definitly a pack leader. With her short hair and lean physique she is not much for going outdoors in winter but likes to sit in the sun and play with our 2nd dog, Bru.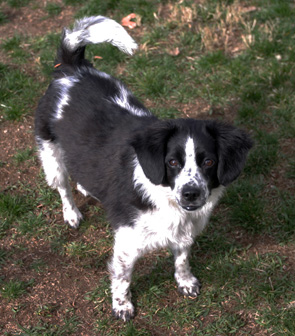 Bru (Short for Brunette) was acquired in 2009 to give Blondie a companion. Bru is a rescue dog that Pam located on-line. Bru is smaller than Blondie but has a higher activity level. Her geaneology includes a healthy dose of American Eskimo dog and her fur reflects this influence.

Bru loves to run and dig. She is more comfortable outside in the colder months but follows Blondie everywhere including back into the house if that is where Blondie wants to go. Bru is still mystified by cats and does not know just how to respond when they come close to her.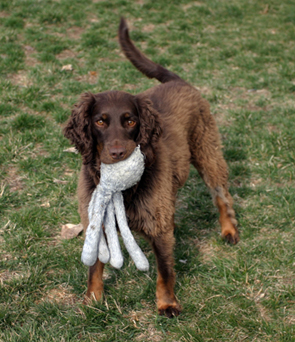 Auburn Jo joined our family in November of 2011. Like Blondie and Bru, Auburn Jo is a rescue animal. Pam found Jo at the Second Chance rescue in Ridgway, Colorado. Jo had originally come out of a Spaniel rescue group in Wyoming and has some Spaniel in her. (Breed-specific rescues don't normally deal with other breeds). We bought a doggie DNA kit, sent it in, and the results came back as 75 percent Spaniel, 15 percent Italian Greyhound and 10 percent "Unclassified."
Jo setteled in pretty well although her preoccupation of always having a toy in her mouth or close by is something of a mystery to Blondie. Bru likes Jo as both of them like to run quite a bit. (Blondie runs but not to the same extent.) Both Bru and Jo are adapted to the colder winter weather and prefer to run outside. Blondie goes out but would rather sit in the sun or come back in the house when it gets chilly. Our cats largly ignore Jo as they do the other two dogs.
All 3 dogs travel well and we take them on extended day trips regularly. They tend to take over the couch when they want to take a nap, which is often. Our fenced yard lets them stay outside as long as they want although they rarely stay outside at night even in warmer times.